I am pretty far over 50, which means I am a babyboomer, a group that have been the subject of so much discussion lately. They are obviously more or less solely to blame for the climate change and also for the fact that the Generation Z is now having to fight so hard for their work-life balance. Before the first people stop to read here and start attacking me, I would like to make it pretty clear right away that I got off the 70-hour-a-week treadmill already 17 years ago and I am also very worried about the climate change. But it is weird that so many people over 50 seem to have a serious problem in finding an adequate job – despite a lot of experience and a lot of energy. I guess I do not really have to mention the shortage of skilled workers. I also made this experience a few years ago. And besides the critical age, I also have a "crooked resume".
In some branches you can be a superstar with over 70
In June 1985 I saw Bruce Springsteen live for the first time. At that time he was just under 36 years old and I was impressed how he thrilled more than 60,000 people with his E-Street band for three and a half hours in the stadium in Frankfurt. Probably the last time I saw him in Munich's Olympic Stadium in July 2023 – just under 74 years old. Two of his old bandmates already passed away some years ago, the others are now also between 72 and 74 years old. If you compare the two shows, there was only one difference apart from the almost 40 years in between: the show in 2023 lasted "only" two hours and 45 minutes. Otherwise, the same energy. Yes, maybe there were a few more melancholy moments than in the past. But that should be granted to a musician who has been on stage for more than 50 years. Whether you like Bruce Springsteen's music or not, it's simply impressive how much energy this man still brings to the stage even at 74. At least with his fans, his age does not seem to matter at all. 70,000 people were in Munich and probably three times as many would have come if more tickets had been available. In front of the stage alone, every age group between 10 and 75 was represented. And if you have seen Bruce Springsteen at one of his concerts in 2023, it is absolutely possible that this was not his last big tour after all.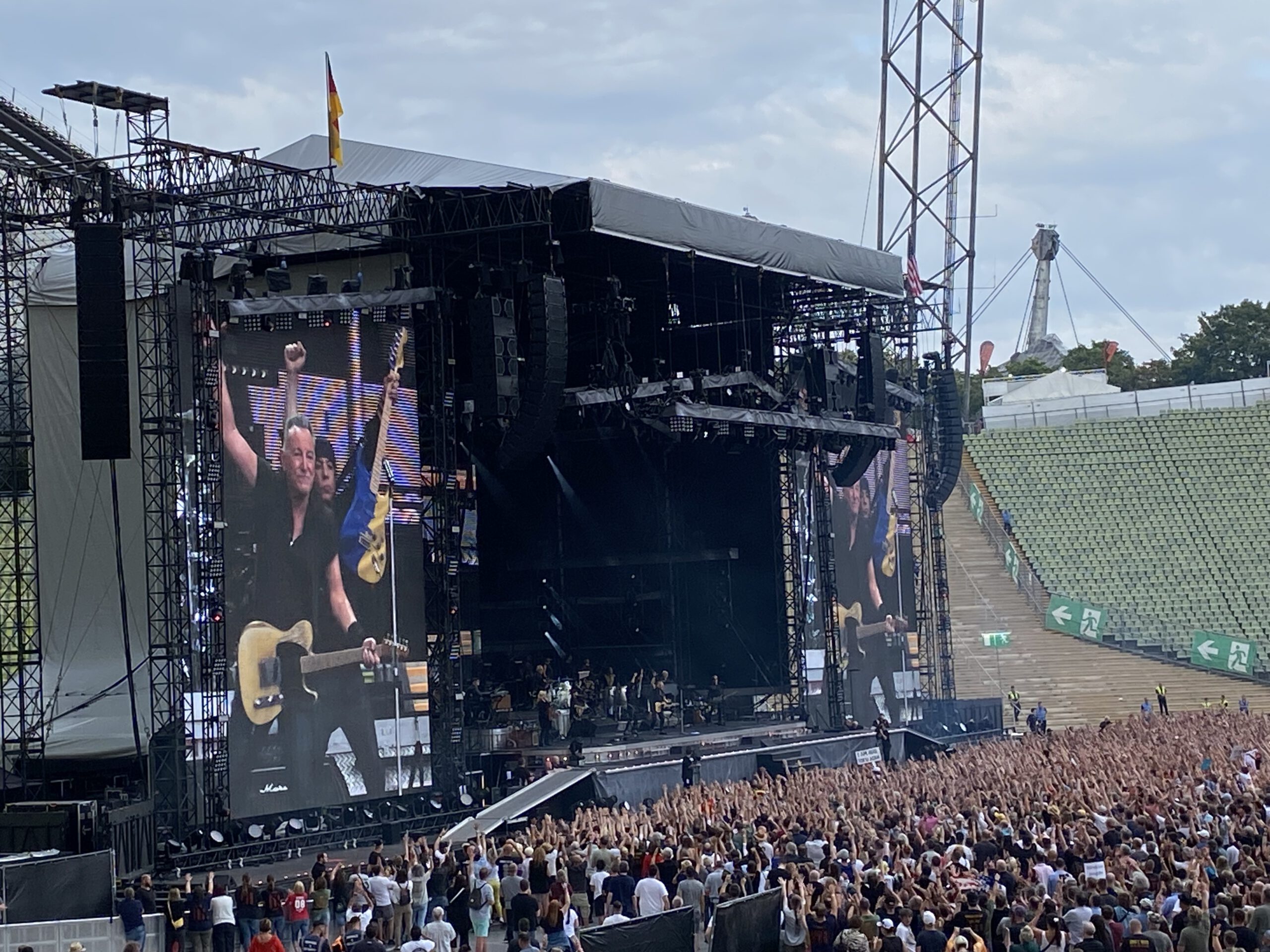 Baby boomer and interim management
In recent months I have read countless posts and discussion about the baby boomers and the over-50 generation. You are quickly pigeonholed just because of your date of birth. But fortunately there is a sector where age does not matter at all and only experience counts: interim management. Even when you are over 60, you are still valued, and as a "temporary manager," so to speak, you can not only successfully contribute to a company's success, but also get it to the next level. Good and effective cooperation has absolutely nothing to do with your age, but rather with your own energy and motivation, how you approach things, with mutual respect and whether your own personality and working style fits into the respective corporate culture. Also thanks to the activities of DDIM e.V. (German Interim Management Association), interim management is now a recognized profession and the sector is growing steadily.
What is actually a crooked resume?
I have heard this term a lot lately. But what is a crooked CV? In principle, it is exactly the opposite of what the post-war generation is so often criticized for: doing an apprenticeship at a company and then staying with this company until retirement. So, what do companies and their HR departments really expect from an applicant today? Until 2006, I had a pretty straightforward resume. In the second employment after graduation, I made a pretty good career for 16 years in a global technology company. However, despite financial incentives and good opportunities to climb even further up the ladder, I then crooked my resume. A planned short sabbatical in Brazil turned into 10 years in which I made a lot of spontaneous decisions – completely without strategy meetings and OKRs. I renovated a decrepit "pousada" and, without any experience in the hotel business, opened it in early 2007. I closed it in 2014 and later sold it again. Because In the meantime, I had built up a second business that was much closer to me than the hotel business: consulting and interim management for German companies that had discovered Brazil as a market. This also closes then the circle to the present.
Gaining other experiences
Looking back, the time in Brazil was a very important period in my life. Besides living in a fascinating country, this time also made me who I am today. Of course, I faced also many challenges over there, but exactly that still helps me today:
Do not give up too quickly, even if you feel like you should drop everything. Of the many Europeans I met in the first few years, not a single one was still there when I left Brazil.
Do not only learn the language, but also adapt to the culture without losing your own values – sometimes quite a balancing act.
Do not plan everything meticulously and then stick to it. In Brazil, you have to reinvent yourself every day, and Brazilians are role models in terms of agility in daily life.
Have the courage to step out of your comfort zone. Doing a renovation for six months with Brazilian workers and hiring employees for reception, room cleaning and kitchen were a learning experience for a former manager in the IT industry. And the diversity of customers in the hotel industry is probably hard to beat.
Find the right moment to "pull the plug" again. After an exciting time, it was then exactly the right moment to return to my original professional passion and also later to go back to Germany after ten years.
Different experiences in other cultures and industries put a lot of things into perspective, and afterwards you look at many things from a different angle. Above all, you remain more relaxed. My book "Jenseits von Samba und Karneval" ("Beyond Samba and Carnival"), in which I summarized some of my experiences, may be too critical for some people, but perhaps that is exactly why I would not want to miss my time in Brazil. Besides that, the book also focuses more on the challenges that you encounter there as an entrepreneur, and it does not talk a lot about the private life. By the way, the World Cup there in 2014 was also an unforgettable experience. At least at that time you could still cheer for the German national team.
Taking the music industry as a role model
Bruce Springsteen never really did anything other than music, but his resume was not always straight either – with all the ups and downs. He joined his first band as a teenager in the 1960s. Then reorientation with the first lineup of the legendary E-Street Band in the early 1970s. The breakthrough with the album "Born to Run" and then reforming the band. The big commercial success with "Born in the USA" in 1984 and then breaking up the E-Street Band in 1989. In the 1990s, moving to the West Coast and starting a solo career. With the reunion of the E-Street Band in 1999, the circle closed again. His music has also changed over the years. From the endless lyrics of the early days, to the more popular music in the 80s, to the quieter songs in the 90s and 2000s, to the old Springsteen sound in 2022. Neither the different paths Bruce Springsteen has taken over the years, nor his age have ever stood in the way of his success until today. So, let's take the music world as a role model. There seems to be no pigeonholing there, obviously.
Keep rocking!